For many outsiders who have never touched golf, if they can receive a set of golf clubs from friends, they may start to think about playing golf. If they can also receive golf shoes, hats, clothing and gloves at the same time Waiting for golf matching equipment, then he will definitely play golf. If he can also receive a golf training course at the same time, then he will definitely become a loyal golf fanatic.
With the popularization and development of golf, the number of golf courses increases rapidly every year and more people invest in this sport. The golf market is also gradually expanding and developing, and the market is gradually subdivided and more standardized.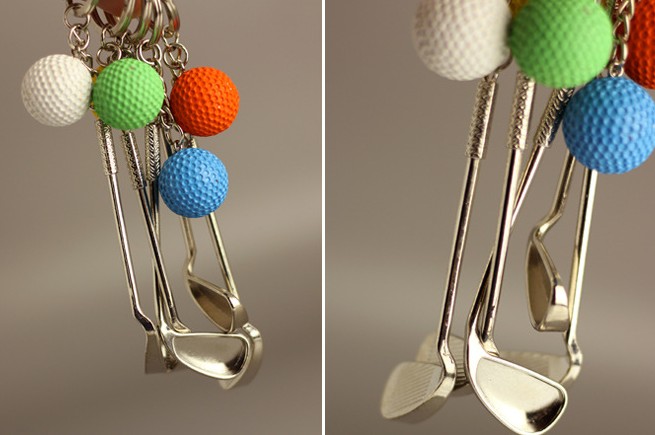 Golf equipment is given as a gift. Usually, people will take golf clubs as the first choice for gifts. When you start hitting the driving range, at least add gloves. If you have a friend to guide you, you can avoid the trouble of finding a driving range, otherwise you have to find a court and a coach.
At the end of the game, you have to buy sneakers, clothing bags, Tee., golf and other equipment. These trivial things may affect your interest in continuing to play. If the object of the gift is a "golf enthusiast" who already has some course qualifications, a set of golf clubs will not surprise him. Classes may be what he needs most. How can we make the two perfectly combined together?
Since the gift effect is so important, why not start from the smallest place, let customers pay attention, and always think of this sport. As a golf course operator, a small golf keychain may make him remember this sport, so as to understand and Get involved, it's a great on-court gift.
There are many holidays, and companies are preparing for company reunions, employee training, customer hospitality gifts and other activities. "Golf key chain" is especially suitable as a gift, economical and effective, and it can be described as an ideal choice. Golf is suitable for any season. Although winter is not as pleasant as spring and autumn, golf sports are all-round and can move to all parts of your body to increase your body's flexibility and resistance. If you have good skills, why not use winter time How about practicing and showing your skills in the spring?